St Bernadette Church Parish News
Parish News. The Church of St Bernadette is open next week on Tuesday from 12pm to 1pm and Friday from 11am to 1pm to all in the community to visit for private prayer.
Each class made an Angel for St Bernadette Catholic Church Christmas Celebration with Angels. The Church is open on Saturday 15th December for everyone to enjoy them.
Christmas Masses at St Bernadette Church
Young Children Crib Service
Sunday 23rd December 3 pm. Come dressed as a Nativity character refreshments afterwards
Christmas Eve
6 pm. - Christmas Family Mass 12.00 am. Midnight Mass of the Nativity ( carols & readings from 11.30 pm.)
Christmas Day
9.30 am. Mass of Christmas Day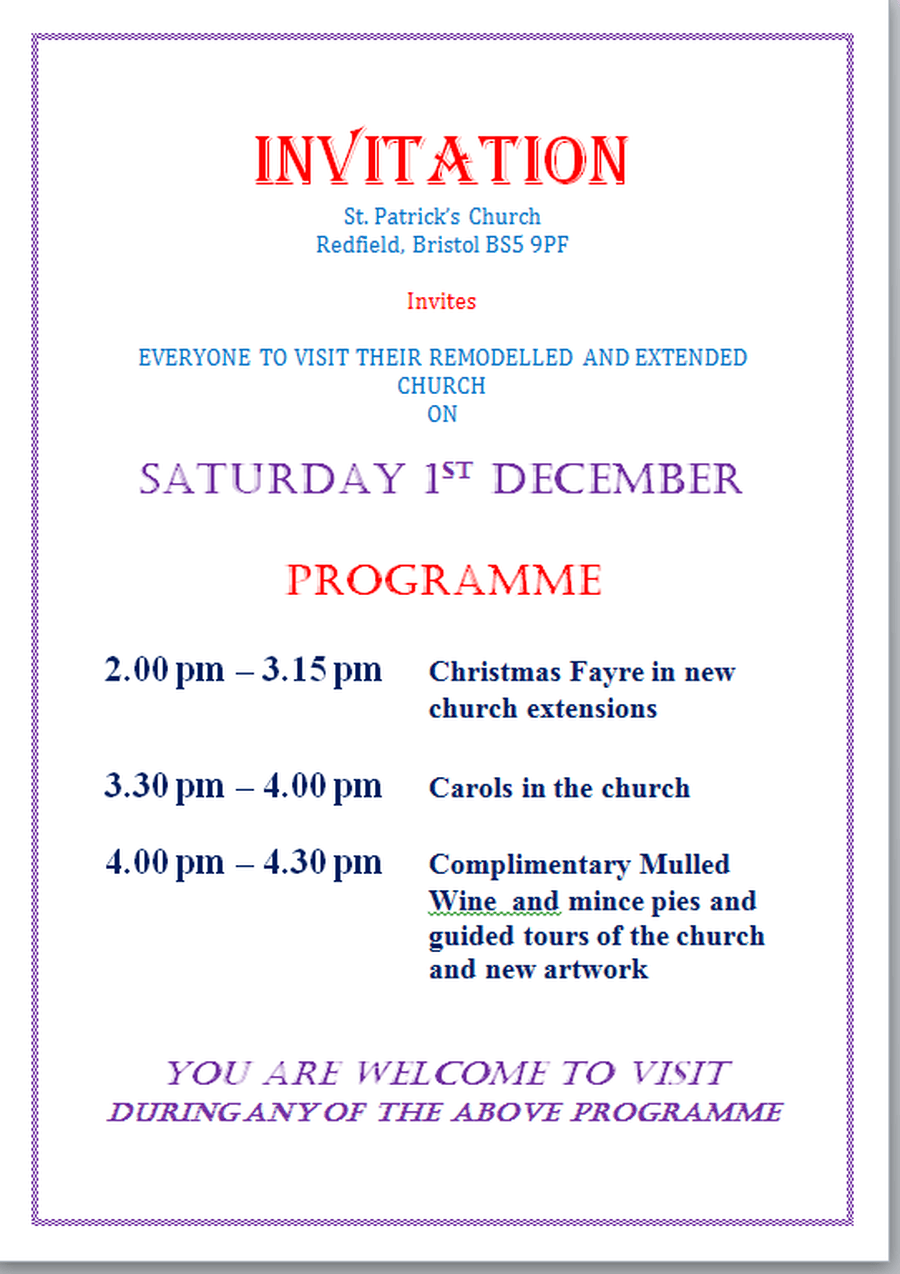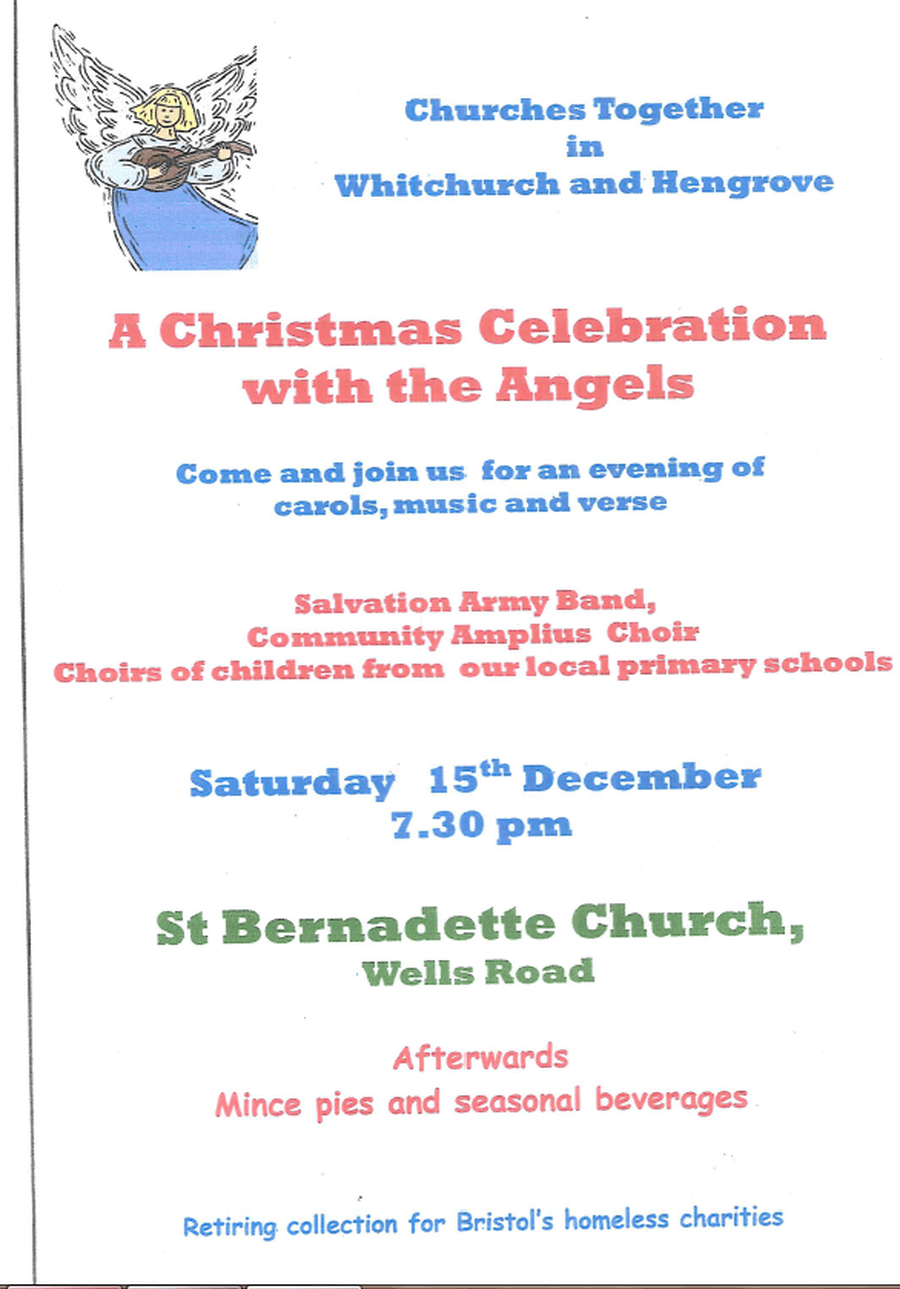 St Bernadette Church Parish News
It is hoped that a new group for women will start up in the next coming months. The aim is to bring women together from the area to make friendships and build relationships and support network in their local Community.
The idea has come from a well - established group of women Called United Catholic Women (U.C.M.) who have been meeting over a number of years, both locally and nationally. You might have heard of them! The U.C.M are encouraging a new generation to establish their own group!
The aim of the group is to bring people together who otherwise might be isolated from friends of family, for example, new Mothers, single and married women, those seeking peer support and would like to make new friends and build relationships in their local area and beyond!
Some of the things the group can offer is:
Friendship and developing a network of support around you.
Discussions on topics that are of interest to you!
Access to courses such as First Aid, Health and Well-Being, Food Hygiene etc.
Contribute to the programme and of activities that are of interest to you.
Peer Support and Mentoring.
Developing your own programmes and themes that you would like to see in the group.
A safe place for sharing and support.
The Group will develop over time and is open to any women of all ages and background, religion, culture and Heritage.
If you are interested in making new friends and being part of a new friendship group, come along on Wednesday 30th May at 6.00 pm for a coffee and informal chat to:
St Gerard Hall,
Buller Road,
Knowle,
BS4 2LN
6.00 pm – 7.00 pm
If you would like to call and find out more, Please contact:
Andrea Cavell Tel: 07460 598823
Enter text...
URGENT - YOUR HELP IS NEEDED! We need to find out
the opinions of local people about our building. We are going to
distribute the briefest of questionnaires which we want you to take
to friends and neighbours to ask them what might interest them
about our building. They can fill them out on the spot. These need
to be returned next weekend (15 April 2018) please or posted through the
presbytery door. Fr Matt will explain more at the end of Mass.
THIS IS REALLY IMPORTANT FOR OUR HERITAGE
LOTTERY FUND BID!! PLEASE HELP.
THINKING AHEAD TO EASTER: From Fr Matt:
"The Feast of Easter is the most important of all the Feasts of the Church. It is
celebrated with the beautiful Easter Triduum. This is one liturgy, spread over three days.
It begins on Holy Thursday evening at 8pm with the Mass of the Lord's Supper, where
we consider the Last Supper, the call to humble service and the Institution of the
Eucharist. It continues with the Celebration of the Lord's Passion at 3pm on Good Friday,
where we reflect on Christ's suffering on behalf of us all. It culminates with the Sacred
Easter Vigil at 8pm on Holy Saturday, as we rejoice in the Resurrection of Jesus – the
crowning glory!
I would really love for more people to come and experience the fullness of the Easter
ceremonies by attending the Easter Triduum. They are very beautiful and very moving.
The Easter Vigil is sometimes described by people as "that long Mass". Well, actually it's
not that long. It lasts about 2 hours and has a distinct movement about it. It starts with
the lighting of the Easter fire, as we gather in darkness, and the procession into the
church with the Easter candle. This year, we will listen to three readings from the Old
Testament and then two from the New Testament. We will be celebrating a new
member coming into our midst with the baptism of Mark Sadd, before we all renew our
baptismal promises. It is the most joyful of occasions and we will celebrate afterwards
with some champagne and chocolate truffles.
Some people say, if I come to the Easter Vigil, do I still need to go to Mass on Easter
Sunday? The answer is "no". Attending the Easter Vigil fulfils your Sunday obligation, the
same as the 5.45pm weekly vigil Mass. There's no harm in coming on Easter Sunday too though!
SPRING FAYRE AND GRAND DRAW:
17th March in the Parish Centre, 11am – 2pm
What do we need:
Bottles, especially wine and spirits; Gifts; Toys and Games;
Chocolates; Cakes and home-made goods; Plants and cuttings;
Jams, pickles and chutneys
THE MAJOR SOURCE OF INCOME FOR THE FAYRE IS THEGRAND DRAW.
Please take away as many tickets as you can to buy or to
pass on to sell. All you need to do is return the counterfoils and money in the envelope (sealed) to
the presbytery or the offertory basket by 10th March.


EASTER LITTURGIES:
Holy Thursday Office of Readings and Morning Prayer 10:00am
The Sacred Pascal Triduum - Mass of the Lord's Supper 8:00pm
with watching at the Altar of Repose, followed by Night prayer 11:45pm
Good Friday
Office of Readings and Morning Prayer 10:00am
The Celebration of the Passion of the Lord 3:00pm
Holy Saturday
Office of Readings and Morning Prayer 10:00am
Young Childrens' Stations of the Cross 11:00am
Swieconka - Polish blessing of the Easter Baskets 12:00
The Easter Vigil 8:00pm
Easter Sunday Mass (not sung) 8:30am
FIRST HOLY COMMUNION PROGRAMME: preparation for first Holy Communion 2017 will begin on Sunday 18 December 2016. Please see the link below for details.
PARISH CHILDREN'S MASS: A parish Children's Mass is now being held the first Sunday of each month. The first date is Sunday November 6th at 10:30am.
BUILDING PROJECT: As part of the diocese's 'Taking Stock' project, St Bernadette church has just been awarded Listed Building Status by the Secretary of State for Culture,
Media and Sport and is now a Grade II Listed Building. The building is considered to be architecturally innovative and a classic example of post Vatican II church design with a striking presence on Wells Road.
CHRISTMAS FAYRE ON 26TH NOVEMBER: The Christmas Fayre is a major fundraiser for us and so we look forward to seeing you there. If you are able to donate any of the items listed below, all donations gratefully received! There is a box in the narthex for the Christmas Fayre donations which can be: bottles, good quality toys, fancy goods, gifts, DVDs, CDs, books, jams and preserves, sugar and chocolates would be very welcome. Many thanks for all your support!
OPERATION CHRISTMAS CHILD: There are Shoeboxes still available – this is a wonderful way to show support for needy children overseas at Christmas. There's a small charge of 35p per box and they need to be ready and returned to us by Sunday, 3rd
November. See Linda after the 10.30am Mass if you would like one.